[av_section min_height=" min_height_px='500px' padding='huge' shadow='no-border-styling' bottom_border='no-border-styling' bottom_border_diagonal_color='#333333′ bottom_border_diagonal_direction=" bottom_border_style=" custom_margin='0px' custom_margin_sync='true' custom_arrow_bg=" id=" color='main_color' background='bg_color' custom_bg=" background_gradient_color1=" background_gradient_color2=" background_gradient_direction='vertical' src='http://bettinasmith.com/wp-content/uploads/2020/09/reviews.jpg' attachment='1261′ attachment_size='full' attach='scroll' position='center center' repeat='stretch' video=" video_ratio='16:9′ overlay_opacity='0.7′ overlay_color='#000000′ overlay_pattern=" overlay_custom_pattern=" av_element_hidden_in_editor='0′ av_uid='av-jx0ct2wa'] [av_heading heading='Reviews' tag='h3′ link_apply=" link='manually,http://' link_target=" style='blockquote modern-quote modern-centered' size='90' subheading_active=" subheading_size='15' margin=" margin_sync='true' padding='10' color=" custom_font=" av-medium-font-size-title=" av-small-font-size-title=" av-mini-font-size-title=" av-medium-font-size=" av-small-font-size=" av-mini-font-size=" av_uid='av-jx0crvs3′ admin_preview_bg="][/av_heading] [/av_section] [av_textblock size=" font_color=" color=" av-medium-font-size=" av-small-font-size=" av-mini-font-size=" av_uid='av-jxvk2qdh' admin_preview_bg="]
Mirages Songs by Fauré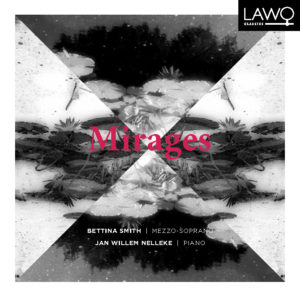 Bettina Smith(mezzo) Jan Willem Nelleke (piano)
This disc is only 49 minutes long which seems a little mean, but the rich expressive singing and alert, responsive pianism are first rate, so all is forgiven. (OC)


Review by BBC Music Magazine, june 2018
[av_dropcap2 color="default" custom_bg="#444444″]N[/av_dropcap2]orwegian Mezzo-soprano Bettina Smith's supple tone and liquescent phrasing make her an ideal interpreter of the songs of Fauré. The excellent Dutch pianist Jan Willem Nelleke brings an exquisite touch to this album as well. Even connoisseurs of the great French composer will find surprises here; the superb interpretive powers of the two performers reveal new nuances in this music. Smith sings with remarkable control, and her vibrato is evenly spun, lending softness to her tone and never impeding her clarity of pitch. She brings to this repertoire a fine balance of fervor and restraint. Nelleke approaches these songs with a cool and precise touch, revealing Fauré the modernist rather than the romantic. The overall effect is one of stunning immediacy. The mini song cycle Poeme d'un Jour is based on poems by Charles Grandmougin. This three-song set finds Fauré at his most direct. The central song, 'Toujours', is a fiery cri de coeur and contains one of Fauré's rare outbursts of sheer passion. This is followed by the exquisite 'Adieu', a tender, introspective song, eloquently performed.
The most substantial set here is La Bonne Chanson, nine songs on poems by Paul Verlaine. It was composed in the summers of 1892 and 1893 while Fauré was staying with the soprano Emma Bardac and her banker husband in the suburbs of Paris. The cycle is dedicated to Emma, whom Fauré was apparently in love with, and who would later becomeDebussy's second wife. Fauré's infatuation with the soprano inspired some of the most daring harmonic inventions of his career, prompting his former teacher Saint-Saëns to declare, "Fauré has gone completely mad!" Some listeners may agree with Debussy's assessment of this song cycle as "needlessly complicated"; still, it gives the performers an opportunity to display their technical prowess and is an effective contrast to the more conventional songs here.
Two late cycles round out the program: Mirages (1919), and L'Horizon Chimerique (1921), the last of Fauré's vocal works. The 1919 cycle is notable for its spare texture and introspective mood—such a marked departure from the adventurous spirit of the composer's middle period. The final set, the title of which translates roughly to "The Imaginary Horizon", employs imagery of the sea in poignant metaphors on memory, loss, and regret. Delicately sung by Smith, these final songs both communicate and inspire the intense yearning that is such a hallmark of Fauré's music. OBEROI
Review by the American Record Guide
[av_dropcap2 color="default" custom_bg="#444444″]S[/av_dropcap2]angkunst på fransk
Mezzosopranen Bettina Smith er ute med en ny plate med fransk musikk signert Claude Debussy og Gabriel Fauré. Det klingende resultatet er den franske sangskatten verdig. Musikken er variert, den er beskrivende og romansene er skreddersydd for en dyktig sanger. Bettina Smith er en slik en. Det er ikke til å unngå å bli fascinert av den norske mezzosopranens varme klang. Diksjonen er ypperlig og hennes musisering sammen med pianist Einar Røttingen er meget god. Smith bruker stemmen på en veldig enkel måte – uten å dominere lydbildet, noe som gjør denne delikate og tidvis intrikate musikken godt. Komponistenes skriverier er fulle av musikalske kontraster – og musikken er en strålende ledsager til tekstene i disse romansene. Og duoen Smith / Røttingen innfrir på en plate som både er interessant vedrørende denne type musikkstykker av de to store franske mestere – og ikke minst er dette behagelig lytting.
På platen:
Claude Debussy (1864-1918):
«Trois Chansons de Bilitis», «Fétes Galantes 2éme receuil», «Trois poémes de Stephane Mallarmé»
Gabriel Fauré (1845-1924):
«Cinq mélodies de Venise», «La Chanson d'éve»
Review of Fêtes Galantes CD by Den Klassiske CD-Bloggen, Trond Erikson
[av_dropcap2 color="default" custom_bg="#444444″]H[/av_dropcap2]ighly expressive singing…quite a substantial mezzo, a lot of color and character in the voice…Just hear how she responds to a song from the darker, second series of Debussy's Fetes Galantes…I love the way this sort of slightly dusky mezzo of hers conveys this ghostly conversation in the park, the lovers' dialogue of love that maybe once was…maybe is no longer…"
BBC (Radio 3) review of Fêtes Galantes CD on "Record Review" with Music Critic
Hilary Finch and Host Andrew McGregor
[av_dropcap2 color="default" custom_bg="#444444″]R[/av_dropcap2]ead Marçal Borotau's review of Bettina's new CD in "Sonograma Magazine" here
Marçal Borotau, "Sonograma Magazine"
[av_dropcap2 color="default" custom_bg="#444444″]S[/av_dropcap2]ee Guy Rickard's 6/6 review of Bettina's new CD in "Klassisk Musikkmagasin" here
Guy Rickard, "Klassisk Musikkmagasin"
[av_dropcap2 color="default" custom_bg="#444444″]V[/av_dropcap2]iew Trond Erikson's 6/6 review of Bettina's new CD in the Norwegian "Den Klassiske CD Bloggen":
http://klassiskcd.blogspot.no/2015/05/sterke-kvinnestemmer.html#more
Trond Erikson, "Den Klassiske CD Bloggen"
[av_dropcap2 color="default" custom_bg="#444444″]U[/av_dropcap2]niversity of Stavanger's
report on Bettina's new CD
.
Trond Erikson, "Den Klassiske CD Bloggen"
[av_dropcap2 color="default" custom_bg="#444444″]T[/av_dropcap2]he 23 songs on this disc are . . . profound, marvelously crafted, and subtle, placing great demands upon the artist. Bettina Smith, with her dark bell-like voice, seems to own these songs and feel a deep sympathy for the symbolist texts . . . there are many fine performances here, especially in the Saint-Saëns group. Silence and Amoroso suit the singer's temperament and vocal capabilities very well. The range of tone, facility, and authentic style of pianist Einar Røttingen lift the entire recital to a higher standard.
Raymond Beegle, Fanfare Magazine
[av_dropcap2 color="default" custom_bg="#444444″]M[/av_dropcap2]agnificently French—A recording that takes us inside of what is French. First and foremost, it is the impressionistic side presented on this recording, and in so consistent and outstanding a manner that it leaves virtually no room for improvement. Bettina Smith's mezzo is authentic and warm in the most seductive way, and pianist Einar Røttingen shows how elegantly one can be seduced. He melds into the alluring sonorous richness in such a manner as to foil the efforts of any listener to remain unmoved . . . the recording fuses into tonal sculptures of which Chausson, Fauré, and Saint-Saëns had the most convincing compositional grasp. And recreated with these artists it becomes quite simply something great.
Hroar Klempe – Adresseavisen
[av_dropcap2 color="default" custom_bg="#444444″]E[/av_dropcap2]rnest Chausson, Gabriel Fauré, and Camille Saint-Saëns are the composers concealed behind the title "Serres Chaudes," a CD of French melodies recorded by mezzo-soprano Bettina Smith and pianist Einar Røttingen. It is an excellent recording—excellent because they have taken from the parts of the repertoire in which the sensuality of the French language is shown to better advantage, and excellent too because both achieve that slightly nasal melodiousness which is more inviting to listen to. Røttingen drapes a lovely blanket of sound around the shoulders of Bettina Smith's mezzo. It wonderfully matches the inflections in the music, especially the legato phrasing.
Ståle Wigshåland – Dagbladet
[av_dropcap2 color="default" custom_bg="#444444″]M[/av_dropcap2]usical settings of symbolist poems, trembling lips, love's sorrows, pale ennui. Quivering neuroses, deep melancholy, and extreme happiness. The world into which Bettina Smith and Einar Røttingen draw us on this recording is full of abrupt shifts of mood, with walled gardens, humid hothouses, and exotic plants. Smith settles into the characteristic French style of singing effortlessly and performs the songs with a dark, sensuous, mellifluous voice, very minimal vibrato, sure intonation, and wonderful text articulation. And whenever needed, she opens her voice completely without tipping over into the melodramatic. The songs are easily accessible, often with melodic chords that point toward French popular music of the years around the Second World War. In addition, there are fine piano parts which give Røttingen enough to work with.
Peter Larsen – Bergens Tidende
[av_dropcap2 color="default" custom_bg="#444444″]F[/av_dropcap2]amiliar composers—unfamiliar music. The upshot is exciting, owing to two brilliant musical artists. Bettina Smith's vocal interpretations are remarkably well-suited to these songs—and she gets the very most out of the excellent compositions by these composers. That she collaborates here with one of our major accompanists is a plus as well. A collaborative effort of this kind guarantees substance and a listening experience of highest quality. What is common to the cycles on this recording is that they are all late works of the three composers. This is as far from romances as one can get, and these songs have an underlying dramatic quality which the two artists communicate in superb fashion.
Trond Erikson – Smaalenene
[av_dropcap2 color="default" custom_bg="#444444″]I[/av_dropcap2]t sounds more dramatic when mezzo-soprano Smith accompanied by pianist Røttingen performs songs from the French Golden Age. The composers are Ernest Chausson, Gabriel Fauré, and Camille Saint- Saëns, and some of the songs are very rare fare indeed. The recording is varied and intense. This is music you are never finished with.
Geir Hovensjø – Østlendingen
[av_dropcap2 color="default" custom_bg="#444444″]A[/av_dropcap2]ll the composers represent Symbolism, and what is modern and forward-looking. These are songs we seldom find in repertoires here. As such, the CD is a door opener to something which can easily remain forgotten. The quality of the recording is established by the performers, Smith and Røttingen. For many years, Røttingen has shown a curiosity for what he regards as new. This curiosity has contributed to the unfamiliar works which have found their way into his repertoire. Bettina Smith collaborates well with Røttingen. She has a searching attentiveness, and a voice which carries and lends characteristic vocal nuance to the songs of the three composers. This is a recording worth listening to.
Idar Karevold- Aftenposten
[av_dropcap2 color="default" custom_bg="#444444″]G[/av_dropcap2]olden Hothouse The concept of "Serres Chaudes"—French for hothouses—is well suited for the songs on this disc. Each cycle represents a late work of the respective composer, all of whom were mature masters of their craft. The performers, too, can be said to be well established—mezzo-soprano Bettina Smith through her extensive concertizing and operatic roles, both in Norway and abroad, and pianist Einar Røttingen, for many years a solid source of inspiration among musicians in his native Bergen, and one of our leading interpreters of Norwegian and modern music. The duo has aspired to present seldom performed works from the golden age of French vocal music—in itself of great value. But whereas the fascinating aspect of a new release is typically the curiosity and creative impulse of the artists, the strength of this recording lies precisely in the combination of established composers and performers. Smith and Røttingen convey an excellent understanding of this subtle and, at the same time, obvious circumstance. The result is a sound of musical impressionism in which the artists are not content with lingering on the surface, but rather probe deeper into the substance. They embrace us with tones arrayed in dark and golden colours—a recording imbued with the scent of fragrant perfume.
Ida Habbestad – Dagsavisen
[av_dropcap2 color="default" custom_bg="#444444″]I[/av_dropcap2] never regretted that she appeared in my masterclasses for art song years ago, because she has grown into a fine artiste, who knows what she can do with a text, with diction, with colours, with musical lines, legato, leggiero, and all the thousand and one tools that we, artists use in order to mould the meaning of an art song into the form in which it strikes right at the heart of an audience. I can heartily confirm that Bettina can do all this, and much more that I will not sum up, because an element of surprise must be left for you. Warmly recommended! —
Elly Ameling
[av_dropcap2 color="default" custom_bg="#444444″]H[/av_dropcap2]er's is one of the most perfectly focused voices I have ever heard- a clear timbre capable of extraordinary suppleness and wide range. Bettina Smith is first and foremost a superb musician- whether singing Bach, Schubert, Chausson or Rossini, she seems perfectly adaptable to the stage. Her warm personality on and off the stage complete her total artistic personality. —
Dalton Baldwin
[av_dropcap2 color="default" custom_bg="#444444″]M[/av_dropcap2]s. Smith is an artist of outstanding potential who has attained a high level of professional acumen in the area of the German Lied. She has a rich, powerful voice with which she consistently captivates and deeply moves her listeners, combining impeccable musicianship with dramatically compelling presentation. Her singing German is excellent. Looking back on more than twenty years of fine singers who have come to the Franz Schubert Institut, I place Ms. Smith among the very best. She is an exciting performer and I would go out of my way to attend any concert at which she was singing. —
Dr. Deen Larsen, Director of Franz Schubert Institut Baden bei Wien
[av_dropcap2 color="default" custom_bg="#444444″]B[/av_dropcap2]ettina Smith bewies in der Arie «Adieu forets» eine ungeheure Piano-und Farbkultur. Fulminant ihr Auftritt, beeindruckend ihr konstanter, gerader und voluminöser Ton, der in sich changierend wirkte. Grandios!!!
Stefan Dettlinger -Südkurier
[av_dropcap2 color="default" custom_bg="#444444″]B[/av_dropcap2]ettina Smith konnte die Zerissenheit der Vitellia in besonderer Weise ausdrücken; ihr klarer, strahlender Mezzo bewaltigte alle schwierigkeiten die Mozart in diese Arie gelegt hat.
Christiane Pieper- Süd Deutsche Zeitung
[av_dropcap2 color="default" custom_bg="#444444″]D[/av_dropcap2]et er grunn til å merke seg navnet først som sist: Bettina Smith må vi få høre om igjen, gjerne i et større oratorium. Aldri har vi vel hørt en stemme som i den grad har greid å beseire Nidarosdomens akustiske lunefullhet med et varmt, men likevel distinkt, sanglig nærvær.
Hroar Klempe-Adresseavisen
[av_dropcap2 color="default" custom_bg="#444444″]F[/av_dropcap2]ine staging and supple acting by the three Quark Sisters, sung by Sarita Cannon, Michelle Jasso and Molly Mahoney, supplied the foil for another star moment, Norwegian mezzo-soprano Bettina Smith as Mrs. Schroedinger. Smith`s delivery was buttery, even in the highest notes, and her classical operatic approach (as opposed to the eye-batting pop that the Quarks deftly delivered) conjured the physicists of Schroedinger`s era. Justin Marsh played the bumbling quantum mechanic with a suave tenor and some surprising "chemistry" moments with the Missus. – Adam Broner, review of performance of the opera "Quantum Mechanic", in Repeat Performances:
http://www.repeatperformances.org/preview.php?catid=1&id=419
Adam Broner
[/av_textblock]